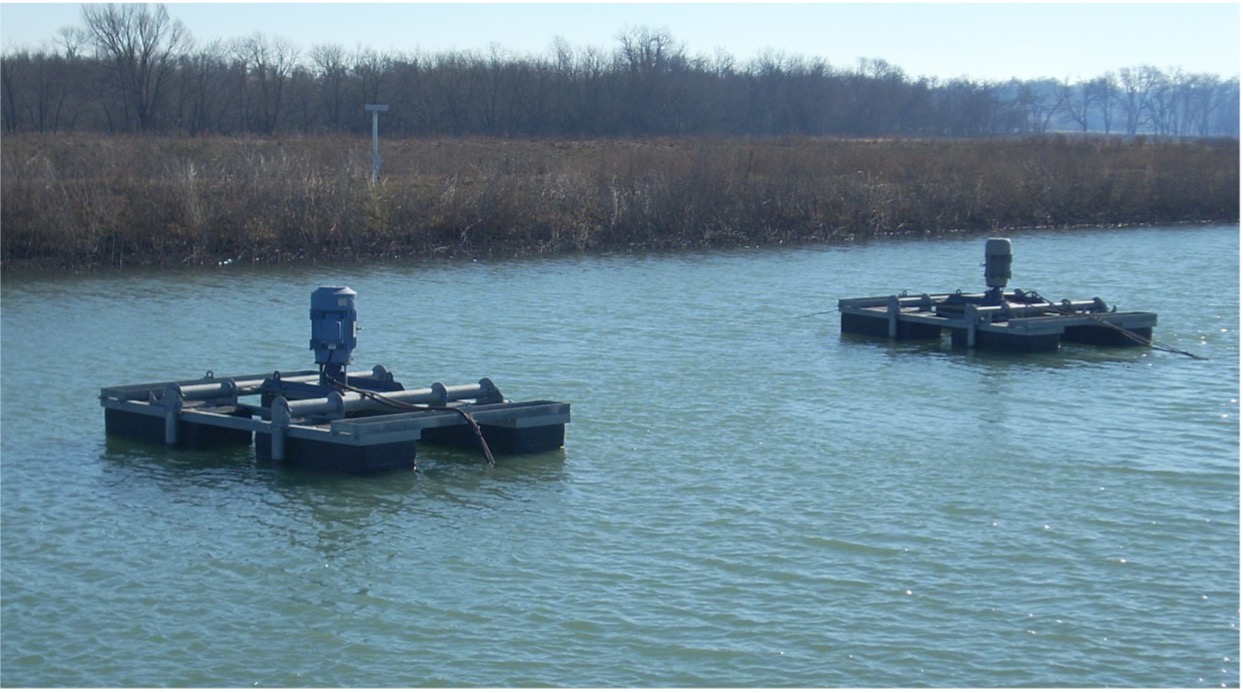 These heavy duty floating pumps feature direct drive motor, couplings, shore mount oil reservoir with low oil sensor, with 70' of supply tube, oil bath drive line, a 4" horizontal discharge pump housing with replaceable stainless steel liner.  Also included is a hot dip galvanized float platform with high impact foam filled polyethylene pontoons.  Bolt on platform legs to keep pump from touching pump liner.  Minimum chopping.  No agitation.  Designed to draw cleanest possible water from 18" to 24" below surface.  Controls not included.  See Pump Accessories section for available add-ons.   An optional wall mount package is available.  Consult factory for prices.
| MODEL | HP | NOMINAL PERFORMANCE* | DISCHARGE SIZE | SHIPPING WEIGHT | PART NUMBER |
| --- | --- | --- | --- | --- | --- |
| D500H40 | 15 | 500 GPM @ 40' head | 4" | 1210 lbs. | 851-00-226 |
| D600H60 | 20 | 600 GPM @ 60' head | 4" | 1260 lbs. | 851-00-227 |
| D600H80 | 25 | 600 GPM @ 80' head | 4" | 1310 lbs. | 851-00-228 |
| D700H90 | 30 | 700 GPM @ 90' head | 4" | 1360 lbs. | 851-00-229 |
| D800H100 | 40 | 800 GPM @ 100' head | 4" | 1410 lbs. | 851-00-232 |
Gearbox and Driveline Protection
Agpro® agitators and pumps have gearbox and driveline protection:  a positive head oil bath system to protect the gearbox drivelines.  Agitators and pumps have packing that protects the seals to keep oil in the gearbox and water out.  It is important to keep the oil reservoir full to maintain a positive head in the oil system.  The oil reservoir is fitted with an oil level switch.  It is important for this oil level switch to be connected because over time oil will seep out of the gearbox.  At first, this will happen slowly but as the seals in the system wear, oil will leak faster.  When the oil level switch is connected, the unit will not run when the oil level drops.  Damage to the gearbox or driveline usually means that the oil level switch was not connected and the agitator or pump ran low on oil until damage occurred.
Agpro® is continually evaluating and updating equipment in an effort to provide the most reliable equipment in our industry.  Agpro® agitators and pumps have packing and shields that protect the seals and we have improved this seal protection feature on the agitators and pumps.  However, eventually the oil level will drop if this is not noticed the gearbox or driveline will be damaged.  The oil level can be observed visually but we highly recommend that the oil sensors be used, as they will stop the unit from running when the oil level drops too low.  The cost for replacing seals and shields is low but replacing the gearbox and bearings is expensive.  The Agpro® warranty is void if oil sensors are not installed.
It is very important that this information be communicated to your service personnel and to your customers.  A description on how to connect the oil level switch is given in the installation guide.  The switches are not installed at the plant because there is a danger of them being displaced or damaged during shipment.  If you have any questions about this feature, be sure and contact us.